A study of a modular building in the UK
During my research in Manchester, We have observed and researched a wide range of housing buildings and the surrounding public spaces in Manchester. I was very interested in one of these buildings. I investigated the appearance of the building. I found that this type of building is assembled from a three-storey building as a module. In the Manchester site there are usually five or six buildings in a group. I think this is a good way to save costs and is ideal for mass production.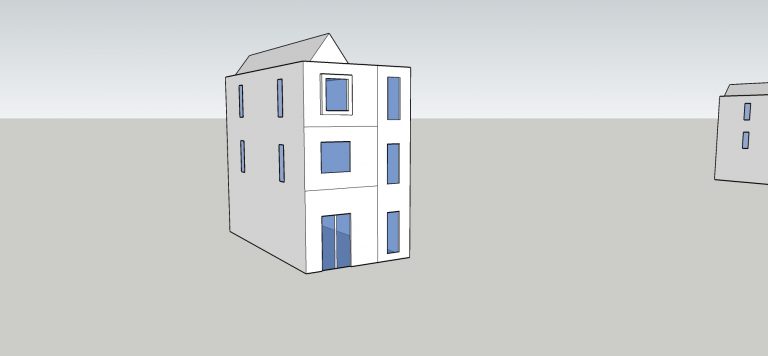 This type of building will always have a portion of the windows protruding outwards on the third floor. And part of the building will have a small balcony next to the large windows where people can reach the balcony. Four small windows are also placed on the side of the building, but they are very small and not suitable for lighting or for viewing the view from the windows.
The buildings are grouped together and only the most flanking buildings can have windows on the sides.
In terms of sunlight, the majority of these buildings in the Manchester site are next to larger high-rise buildings, so the light in these buildings is largely compromised.
The gardens in front of the less affected buildings will be overshadowed to the detriment of plant growth and the activities of residents. The more affected buildings may not receive much sunlight on the ground floor.
The front and rear of the building have one entrance and one exit. The larger entrance has a garden and the smaller entrance is a small area in front of which parking and storage is possible.
These front and rear areas are connected to the neighbours', which facilitates communication and activities in the neighbourhood, but at the same time reduces the amount of private space.
Having thought about this type of building, I think I can also draw on this form of house in my future designs, but there are some aspects that I need to modify to some extent.
The first is that in terms of lighting, I would try to give each of the homes as much sunlight as possible, without the residents in the middle feeling too much less than those on the sides.
Secondly, in terms of communal space, I will try to give each occupant an equal amount of communal space and a certain amount of privacy.