New East Manchester: Urban Renaissance
This project in Manchester which we made a field trip on this semester has great reference value. It makes a good example of urban regeneration. It usually contains multiple objectives in an Urban regeneration project. For example, urban regeneration includes a wide range of economic, material, cultural and political domains. Therefore, it should be regarded as a set of processes. Policies often include housing, health services, community empowerment, economic reform, image marketing, and physical infrastructure reform. Thus, urban regeneration strategies have become a tried and tested strategy for the central government, which hopes to promote brownfield redevelopment, reprice deprived inner-city blocks, and promote social cohesion (Lees 2008). The term "urban regeneration" reflects the idea of the city as an organism, requiring local areas (body parts) to be healed, repaired, or regenerated.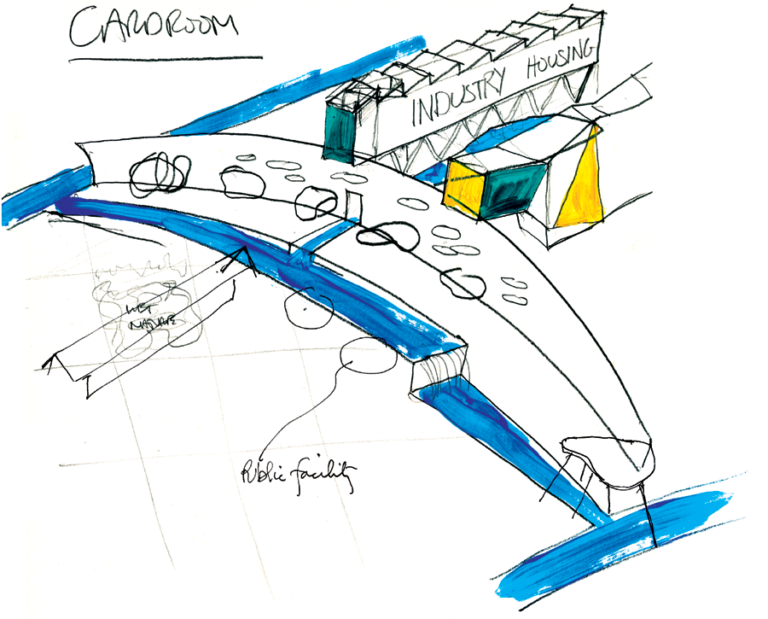 Fig 1. Masterplan sketch
by the late Will Alsop
The East Manchester Urban Regeneration Project involves three interrelated areas of action:
Neighborhood and Places Frameworks:
The new vision of new Islington connecting the existing Ashton and Rochdale Canal with a new quay creates a European-style waterside community in the heart of Manchester. A place of green squares, homes, businesses, schools, and infrastructure that will continue to connect old and new. A local community, historic canals, stunning mills, and landmarks of modern Manchester. Water which means blue spaces play an important role in the process of health and well-being.
Fig 2. New Islington – Urbansplash
People and community Framework:
Building supporting schools, hospitals, and other infrastructure to ensure appropriate levels of education, and residential quality. Attract different kinds of families such as young people, families with children and old people living in this place. In specific actions related to community renewal, the residential area with a public park is a good way to support people. It makes working adults easily accompany children and promote awareness of the adoption of healthy and sustainable lifestyles. The project combines small to medium-scale communities with mixed residential and commercial structures, high-supply services, and efficient mobile infrastructure. To strengthen housing supply, public space and services, and social cohesion.
Fig 3. Pollen Bakery – Urbansplash
Economic and employment Framework:
Make the neighborhood a better place to live, work and play. Developers bring much-needed new homes, work Spaces, community Spaces, and facilities. The converted factory is now a new office building, for fashion design studios and other small businesses. Launch new start-ups to increase employment opportunities and attractiveness to new investment.
Fig 4. Stubbs Mill – Urbansplash
In conclusion, regeneration areas include improving the quality of the city's housing supply and services, enhancing mobility and connectivity with other cities' historic heritage and biodiversity, and reducing the environmental impact of new buildings (Mace, Hall and Gallent, 2007). Ensure appropriate levels of education, involve families in specific actions related to community renewal, accompany young people and working adults and promote awareness of the adoption of healthy and sustainable lifestyles.
References:
Bayliss, S. and Bergin, R., n.d. The modular housing handbook.
Chiara Testoni et.al., Architectoni.ca 2014, Online 4, 21-28
Mace, A., Hall, P. and Gallent, N., 2007. New East Manchester: Urban Renaissance or Urban Opportunism?. European Planning Studies, 15(1), pp.51-65.
2008–2018 East Manchester Strategic Regeneration Framework: Revised Targets, 2011, available at: http://www.manchester.gov.uk/download/meetings/id/12140/9_revised_targets_for_the_2008_%E2%80%93_2018_east_manchester_strategic_regeneration_framework_and_the_201112_to_201314_new_east_manchester_implementation_plan (accessed 17/12/2014)