Urban agriculture? A new impetus for the Salutogenic Environment!
This week's lecture explored four main points with us:
1.Understanding the relationship between health and the environment
2.Exploring contemporary issues of health and well-being
3.Exploring theoretically viable approaches (how the built environment can support more active lifestyles)
4.Evidence to check which interventions really work and interesting future developments
As it happens, this fits in well with our group's design theme for this term, Urban agriculture, and I would like to combine the two and explore them together.
Urban farming has recently become a hot new topic of discussion, due to the growing awareness of the demise of agricultural land.In the long evolution of society we can see that agricultural land has played a very important historical role, but with the rapid development of society it has begun to be neglected.In this semester's design course I have focused on allotment planting and conducted research on it which I would like to share with you.
Allotment Gardening
However, with increased awareness of nature conservation, agriculture is being mentioned again, especially in the context of the current pandemic.A standard allotment should be 23.77m ✖ 10.97m, which is approximately 250㎡, or the size of a doubles tennis court. And the type of allotment agriculture should contain fruit, vegetables, ornamental plants and animals (hens, rabbits, bees, etc.).
Benefits
1.Social Capital
In the distribution process the elderly have more opportunities to engage with the community and they contribute to it, which makes them feel the value of their existence and reduces their sense of isolation。
2.Mental well being
Gardening helps prevent and alleviate mental illness and makes people more independent and confident.
3.Health activity
Getting sedentary people to exercise properly helps the elderly maintain a good gait and cognitive ability, and studies have shown that more exposure to sunlight can boost vitamin D levels.
4.Fresh,local Seasonal Produce
Properly distributed planting will ensure that a family's weekly food is more natural and healthy.
5.Sense Of Achievement
By planting people can gain new growing skills and knowledge, and it is better to grow your own than to buy it from outside.
6.Contact With Nature
People can experience the changing seasons as they plant, learn about the ecosystem and, as they get deeper and deeper into nature, become motivated to protect the environment. Dutch studies have shown that for every ten per cent increase in exposure to green space, there is an improvement in health of five years younger.
7.Allotment During The Pandemic
It can be a refuge during an epidemic, allowing for moderate exercise during the closure and maintaining social interaction with people of the same interest at a safe distance.
SPRING                                                                                                    SUMMER
AUTUMN                                                                                              WINTER
How to allocate?
People use the app, register their information and the community makes the allocation
The community uploads vacant plots through the app and people make reservations.
How to manage?
The community posts information through the app, interested people apply, vote for the committee and the elected committee members are trained in relevant courses with the help of the community.
We can divide the activities into three main categories based on urban agriculture:
Farming:
The farm follows the organic ecological planting orientation of the 24 solar terms and combines modern agricultural high technology to achieve organic fruit and vegetable production such as field planting, substrate planting, hydroponic planting and aerosol cultivation as well as the planting of flowers and plants.
Agronomy:
The farm hopes to evoke the beauty of nature for all customers. They offer parent-child classes such as nature painting art and creative farm handicrafts in the planting studio to promote the concept of living in harmony and beauty.
3.Nong Nurture:
Planting is a platform for natural science and practical education and training for modern urbanites. Through food and nature courses, you will be able to experience rice planting, fertilisation ……, cognition of plants and animals, exposure to and learning about the soil and natural seasons, and a heartfelt love for nature in the guise of a farmer.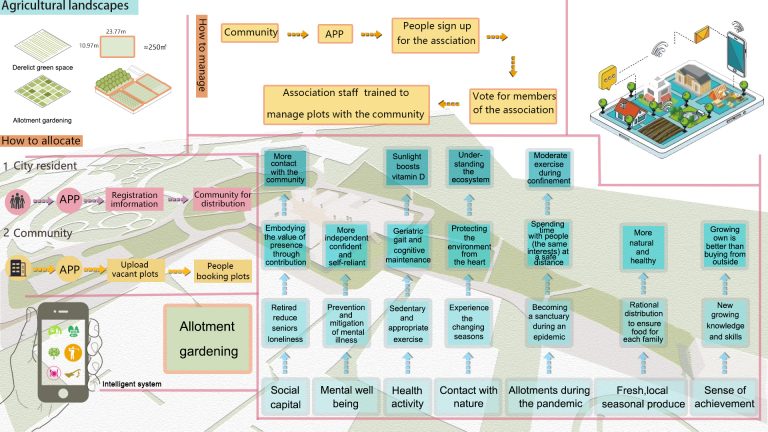 As urbanisation accelerates, more and more people are moving from the countryside to the cities every year. Most people live in multi-storey flats and have less and less contact with nature, which is precisely what makes people increasingly eager to enjoy the days when fresh food was produced by working with their hands on the land. According to research data, searches for vegetable seeds have shown a marked increase in the last two years, behind which urban farming is quietly on the rise!
We study urban design in order to create beneficial environments for people, and in my opinion urban agriculture is one of the good answers.
Reference:
1.https://www.nsalg.org.uk/allotment-info/
2.http://www.edimentals.com/blog/?page_id=1321
E-mail:zhouhuangyunuk@163.com