The technique of repurposing a building or structure while maintaining its historical or cultural relevance is known in architecture as "adaptive reuse." A sustainable method of building design involves using existing buildings as opposed to tearing them down and creating new ones.
Adaptive reuse projects might include anything from converting old factories and warehouses into loft apartments or offices to converting historic structures into museums or cultural institutions. In many cases, the procedure involves retaining the original architectural characteristics while also adding new ones to fit the demands of the new usage.
The reuse of adaptable material has a number of advantages. Reusing existing buildings allows for the preservation of historic buildings, waste reduction, and the creation of unique spaces with personality for new applications. Given that the building shell is already present, it may also be more affordable than new construction.
However, this technique is not without its difficulties. To comply with the most recent construction codes and accessibility requirements, it can be necessary to modify existing facilities. The external or interior design of the building might need to be extensively changed to accommodate the new usage. Sometimes the structure's historic or cultural importance is even jeopardized by its new role.
BRITISH MESUEM
One of the most prominent p 
rojects for adaptive reuse at the British Museum was the renovation of the historic Round Reading Room. The Round Reading Room, a Sydney Smirke-built structure from the 19th century, was once a library but had been closed for some time before becoming a new exhibition room. The Great Court, a recently renovated area, was designed by Foster + Partners and premiered in 2000. The Great Court features a stunning glass roof that floods the space with natural light and creates a wonderful backdrop for the museum's displays.
Hearst Tower, New York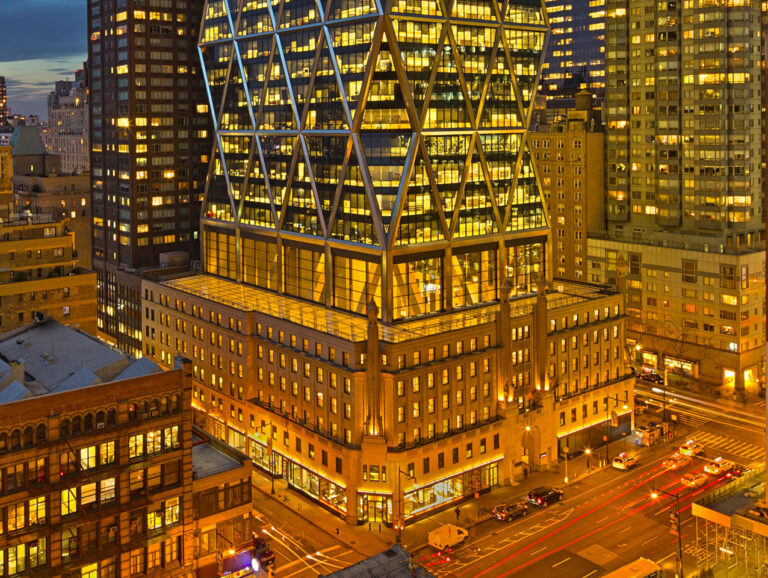 Hearst Corporation made the decision to renovate the structure in the 1990s and hired Skidmore, Owings & Merrill (SOM) to create a new skyscraper that would include the old structure. The design team chose to keep the building's base and exterior while raising a new tower over the existing one. The base of the building also received a new atrium and lobby, resulting in a striking entry to the tower.
Making ensuring the new tower was structurally strong and capable of withstanding the wind and other environmental variables characteristic of a high-rise building in Manhattan was one of the project's biggest challenges. This was accomplished by the design team by using a diagrid structural system, which allowed for a more effective use of steel and guaranteed that the construction was sturdy and long-lasting.
References :
Image 1(British Museum) :
"Foster + Partners." Www.fosterandpartners.com, www.fosterandpartners.com/projects/great-court-at-the-british-museum.
Image 2(Hearst Tower) :
"Hearst Tower | Hearst." Www.hearst.com, www.hearst.com/real-estate/hearst-tower.