Future of Green Infrastructure
What is the future of green infrastructure one might ask and how significant it is? Green infrastructure is defined as the network of natural spaces and corridors that include human intervention or natural habitats. As we all know there is a dire need for green and healthy cities as climate change is a real issue and irreversible damage has already been done to this planet's natural habitat. Much of it is already lost and the fauna is becoming extinct with each passing day.
As urban designers, we are at the forefront of bringing a significant shift in the way cities are planned. Various measures are being undertaken by different countries to address this issue. One fine example was Misery Quarry, from the lecture by Professor Armelle Tardiveau who gave us a seminar about Urban Renewal.
Misery Quarry is formerly a stone quarry transformed into a tropical garden. It is meant to connect different neighborhoods and forms a linkage for various activities. The biodiversity has drastically improved with parts of wastelands being preserved. The cascading waterfalls add to the beauty of the gardens. It also promotes tourism thereby helping the socio-economic factors.
http://https://thegreencities.eu/candidate-france-2021/
Green infrastructure is taking root in parts of London. There have been several landscape projects in Central London. The Vauxhall missing link project replaces a busy road designed to promote an active pedestrian network and cycling. The rain garden helps in harvesting water and supports biodiversity.
https://www.ribacompetitions.com/vauxhallthemissinglink/
European city Essen in Germany is also a fine example where green transformation is taking place. formerly a polluted industrial neighborhood now will have a mesmerizing view of the green roofs, bioswales, and gardens. the city is implementing nature-based solutions rather than a more technological approach. Krupp Park is an example of the transformation.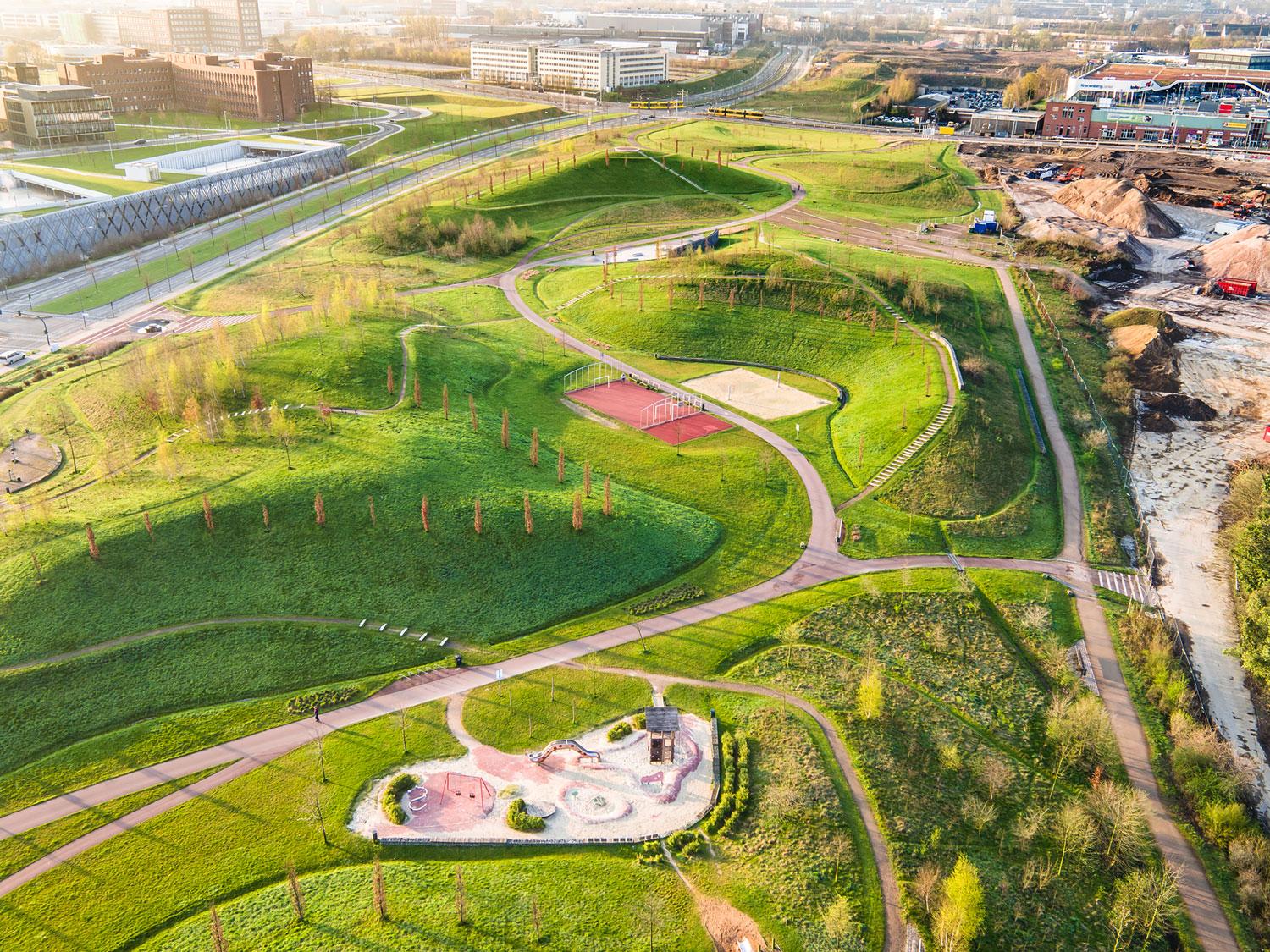 https://una.city/nbs/essen/krupp-park
We are all aware of the benefits of green infrastructure. Since the pandemic, we, have been keeping health on the pedestal, and green infrastructure has been known to promote health. One of the key aspects is reducing the pollution that has been caused by carbon emissions. It is also known to impact mental health as well, creating a barrier with the noisy atmosphere, and known to have a calming effect on the mind. The citizens tend to socialize better in a greener environment and have a happier conversation around them. It has economic benefits as well where research by London Metropolitan University suggests the efficiency in a workplace is higher when there is greenery around and boosts the business.
As Urban Designers incorporate greenery in the neighborhood the location and amenities play a vital role in the utility factor. There have been examples where green infrastructure has had a great impact on the minds of the inhabitants. It becomes a place for various primary and secondary activities thereby improving the biodiversity of the surroundings. Relations between the inhabitants tend to improve around green spaces. Healthy and sustainable neighborhoods are more likely to pave the way we perceive the future of cities.
References
Lecture and presentation on Urban Renewal by Armelle Tardiveau
Content – https://www.london.gov.uk/sites/default/files/green_capital.pdf
Essen – https://www.upm.com/articles/beyond-fossils/22/three-pioneering-cities-one-sustainable-future/?utm_source=google&utm_medium=cpc&utm_campaign=contentmarketing&utm_term=HeroQ2&utm_content=&gclid=CjwKCAiAnZCdBhBmEiwA8nDQxfMiBi8boV8lJdnm9Sfoa6smg0vmPQobk9kkPRCuELlD9zJCafWzBBoCpMQQAvD_BwE