Public spaces: How to improve the connection between the Public and the Street.
Public spaces: How to improve the connection between the Public and the Street
29 September 2022, Prof. Tim G Townshend, under the lecture module on the principle of urban design talks about a few points, which include the basic understanding of the term urban design. Along with that, he discusses the different theories in UK/Western culture. At the end of this lecture, we got an overview of the different dimensions of urban design.
Fig-1. a picture from the lecture given by Prof. Tim G Townshend, on 29 September 2022
Strategies to creating a better public space.
Starting with a question, what is a public space? and why any city needs much space to stand out from others. So, public space is a dimension that holds a diversity of people. This leads us to another question, what makes an individual spend their time in such places? are we as an architect and designers capable of designing such a public hub? So, in this read, I am discussing a few points which help the designer to think critically about designing such space.
1. Street rejuvenation
The street is an essential element of public space. It connects the areas to form a loop in which a person feels connected. However, streets are now more car-oriented, which overlook pedestrians and cyclists. To make it more user-friendly it is important to focus on how we design the street which can hold a balance of different users, at a time.
Fig-2. Figure depicting the street division based on user requirements.
2. Preserving the identity of a space
Identity is a component that makes one space diverse from other. Identity includes businesses from the micro scale to the macro scale. This factor is also driven by the local community, old food ventures, and the literary realm. While designing, it is very important to consider the existing scenario of the neighborhood, from a cultural and social point of view.
Fig-3. Figure depicting the name of a street that comes after a certain identity of the neighborhood
3. Active frontage
If we consider the vertical zoning of a building that has an opening to a street, the ground floor is allotted to business and retail ventures. At a certain point, it's the correct thing to deliberate, as this will allow the public to connect easily with the local vendors. This eventually increases the economic status of the neighborhood.
One of many examples of active frontage is Ginza, Tokyo's most popular shopping street [1]. Its pedestrian mall at chou Dori street is an eye of attraction. Its opening days are on every Sunday and holidays [2]. During this, the market is closed to automobile traffics and became a pedestrian-friendly street. In the center of the street, there is a lane for coffee shops and sittings.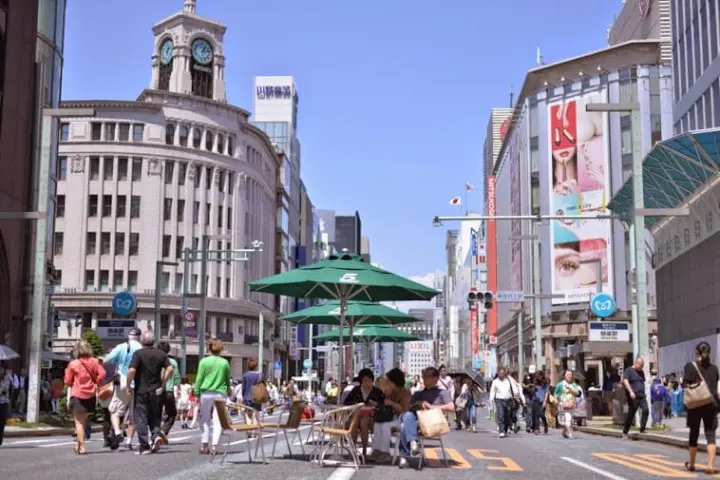 Fig-4. Chuo Dori street on Sunday afternoon
4. Creating a safe space for everyone
Imagine designing a beautiful park or a public square, which is full of people during the daytime but shady during the night. consequently, this is not a successful design approach. Furthermore, we should always consider the design which is universal not only considering the human scale or diversity but the time period. We should think critically about how we can involve the local population to interact with the pedestrian after dusk.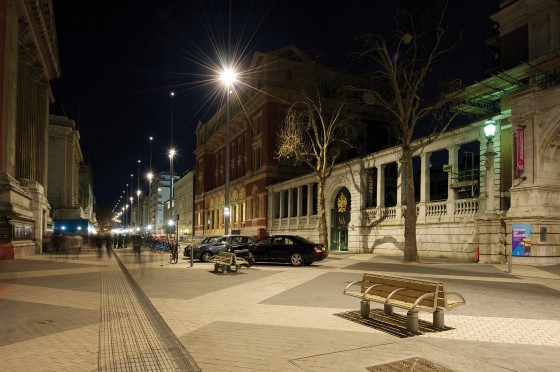 Fig-5. Public space during night/ after twilight.
The design of a public space depends on many such factors other than that what we discussed. But the most important thing to consider while proposing any design for the public is to understand the population, what they want, and in which type of neighborhood they want to live in.
Post References:
[1]. Ginza, Tokyo's most popular shopping district.

[2]. Ginza Japan's premier shopping district.
Figure- 1. picture clicked by Reham etar.
Figure- 2. https://ceoworld.biz/wp-content/uploads/2020/10/pedestrian.jpg
Figure- 3. https://nypost.com/wp-content/uploads/sites/2/2020/04/central-park-west.jpg?quality=75&strip=all
Figure- 4. Picture from Sophisticated Ginza – Urban Walking Route Along Chuo-Dori Street
Figure- 5. https://www.google.co.in/search?q=safe+public+space+at+night&tbm.