Time to Shift: Linear to Circular Economy
The linear method of production is a traditional model of economic development where resources are extracted, processed, used, and eventually disposed of as waste. In this model, the emphasis is on maximizing the efficiency of production and increasing economic growth, often at the expense of environmental and social concerns.
According to the World Bank, in 2016, 2.01 billion tonnes of solid municipal waste was generated and by the 2050 it will reach upto 3.40 billion tonnes.
| | | |
| --- | --- | --- |
| S.no | Type of Waste | Quantity (per capita per day) |
| 1 | Municipal solid waste | 0.74 kilogram |
| 2 | Industrial waste | 12.73 kilogram |
| 3 | Agricultural waste | 3.35 kilogram |
| 4 | Construction and demolition waste | 1.68 kilogram |
| 5 | Hazardous waste | 0.32 kilogram |
| 6 | Medical waste | 0.25 kilogram |
| 7 | Electronic waste | 0.02 kilogram |
Table 1: Waste generated in 2016 (Source: The World Bank)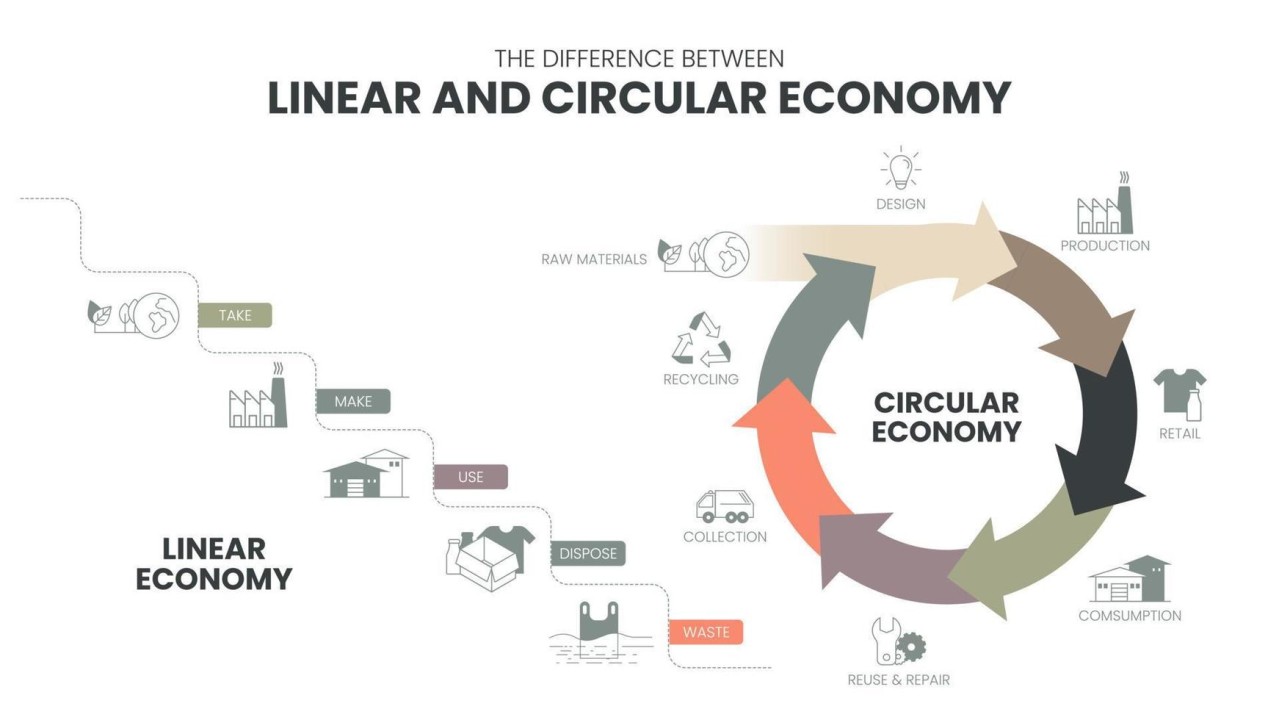 Figure 1: The difference between Linear Economy and Circular Economy (Source: Caroline Macdonald JP CTB CTE LREA)
The linear method of production follows a "take-make-waste" approach and often contrasted with the circular economy model which aims to create a closed-loop system of resource management where waste is minimized, and resources are efficiently used and reused. This model is particularly relevant to cities, as they are responsible for a large share of global resource consumption and waste generation. By adopting circular economy principles, cities can reduce their environmental impact and create a more sustainable future.
Here are some ways in which cities can evolve towards a circular economy:
Design for circularity: Cities can adopt a design approach that emphasizes the circularity of products and services. This includes designing products that are durable, easy to repair, and recyclable. It also involves designing buildings and infrastructure that can be repurposed or adapted for new uses.
Promote reuse and sharing: Cities can encourage the reuse of products and sharing of resources. This can be achieved through initiatives such as community reuse centers, libraries of things, and sharing platforms for vehicles, tools, and appliances.
Implement waste reduction strategies: Cities can implement waste reduction strategies such as composting, recycling, and waste-to-energy programs. They can also encourage residents and businesses to reduce waste through education and awareness campaigns.
Develop local circular economies: Cities can foster local circular economies by promoting local production and consumption, encouraging local businesses to adopt circular business models, and creating local networks for the exchange of resources and services.
Invest in technology and innovation: Cities can invest in technology and innovation to support the circular economy. This includes the development of new recycling technologies, the use of renewable energy sources, and the adoption of digital platforms that support circular business models.
Here are some examples based on circular economy-
4. Closing the loop – An EU Action Plan
Overall, the circular economy model offers a promising path towards a more sustainable urban future. By adopting circular economy principles, cities can reduce waste, conserve resources, and promote economic growth in a way that is both environmentally and socially responsible.