What AI Can Do in Urban Design
Background
Artificial intelligence (AI) is rapidly transforming many fields, from healthcare to finance to transportation. But what about urban design? How can AI create more efficient, sustainable, and livable cities? In this article, we'll explore how AI is being used in urban design. We'll also know some of the opportunities and challenges this technology presents.
Fig 1:Open AI [1]
The use of AI in broad field of urban design
Traffic management
One of the most promising applications of AI in urban design is in the area of traffic management. Traffic is a significant challenge in many cities, leading to congestion, pollution, and lost productivity[1]. But AI can help. For example, AI algorithms can optimize traffic signal timing, reducing wait times and improving traffic flow. This can help reduce congestion and enhance air quality, making cities more livable and sustainable.
AI can also be used to help design more efficient transportation systems. For example, AI-powered routing algorithms can help optimize public transit schedules and routes, reducing travel times and improving accessibility[2]. This could make public transit a more attractive option for commuters, reducing the number of cars on the road and reducing traffic congestion.
Buildings and  structures
Another area where AI is used in urban design is the creation of buildings and other structures. AI algorithms can optimize building design for energy efficiency and occupant comfort. For example, AI can model and simulate airflow within a building, allowing designers to maximize ventilation systems and reduce energy use[3]. AI can also optimize the placement of windows and other openings, maximizing natural light and reducing the need for artificial lighting. During my undergraduate period, I was fortunate enough to have access to the University of Pennsylvania's use of AI in architectural selection.
Fig 2:AI is doing structural analysis [2]
Sustainability
AI can also be used to help design more sustainable and resilient cities. For example, AI algorithms can be used to model the impact of climate change on urban areas, allowing designers and planners to develop more effective adaptation strategies[4]. Similarly, AI can optimize the placement of green infrastructure (such as parks and green roofs), maximizing their effectiveness at mitigating the urban heat island effect and improving air quality.
The use of AI in design
Artificial intelligence (AI) is increasingly used in architecture to enhance the design. By incorporating AI into architecture, designers can produce more efficient, sustainable, and aesthetically pleasing designs. Here are some of the ways that AI is being used in the process of architecture design:
Generative design
One of the most significant applications of AI in architecture is generative design. Generative design is a process where designers input constraints and goals, and AI algorithms generate thousands of design options that meet those criteria[5]. This approach enables designers to explore possibilities they would not have considered otherwise. It saves them significant amounts of time in the design process. By automating the design process, generative design allows architects to focus on the creative aspects of design while AI handles the technical details.
Fig 3:AI is learning architectural form [3]
Building performance analysis
AI can also be used to analyze the performance of a building design. By simulating the building's energy usage, lighting, and heating and cooling systems, AI algorithms can identify ways to optimize the design for energy efficiency and sustainability[3]. This approach can help architects design buildings that are more environmentally friendly and cost-effective to operate.
Site analysis
AI can also be used to analyze the site where a building will be constructed. By analyzing factors such as sun angles, wind patterns, and natural lighting, AI algorithms can identify ways to optimize the building design for its specific location[6]. This approach can help architects design buildings that are better integrated into their environment and more responsive to local conditions.
Fig 4:AI doing site analysis[3]
3D modeling
AI can also be used to create 3D models of buildings. AI can use algorithms to analyze photographs and other data to generate accurate 3D models of a building's exterior and interior. This approach can help architects visualize and refine their designs and can also be used to create realistic virtual tours of a building. This process likes what I mentioned in my last blog.
Fig 5:AI is making model structure selection[2]
Material selection
AI can also assist architects in selecting suitable materials for their designs. By analyzing cost, durability, and environmental impact, AI algorithms can help architects choose materials best suited to their project's needs[6].
Project management
Finally, AI can also streamline project management in architecture[7]. By automating scheduling, budgeting, and resource allocation tasks, AI can help architects manage complex projects more efficiently and effectively.
Challenges and limitations
I think using AI in urban design also has challenges and limitations[8]. One of the biggest challenges is ensuring that AI is used ethically and transparently. There is a risk that AI algorithms could perpetuate existing biases and inequalities in the urban environment, for example, by favoring specific neighborhoods or populations over others. It's essential to involve diverse stakeholders in designing and implementing AI systems and be transparent about their use.
Another challenge is ensuring that AI systems are accurate and reliable. This is particularly important in areas like traffic management, where even minor errors in AI algorithms can significantly impact traffic flow and safety. AI systems must be thoroughly tested and validated before they are deployed in the real world.
Finally, there is the challenge of ensuring that AI systems are designed and developed in a way that respects privacy and data security. AI systems rely on vast amounts of data, and this data must be protected from misuse and abuse[9].
In my view AI can be a source of social injustice if used incorrectly, just like the world in the movie "Blade Runner" or the game "Cyberpunk 2077".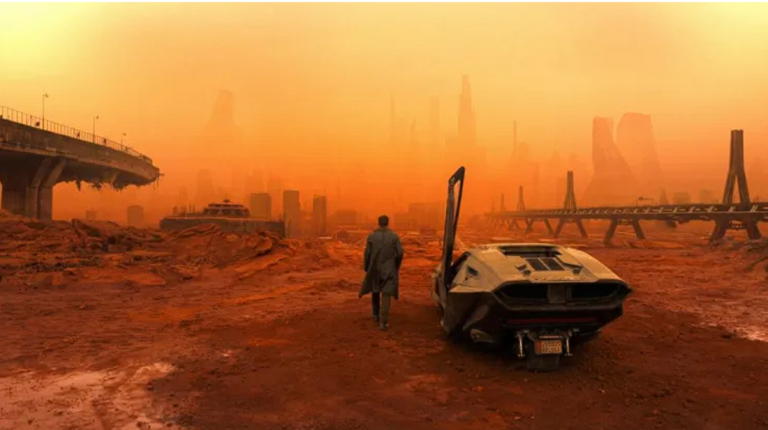 Fig 6:A world of AI abuse[4]
Conclusion
In conclusion, AI is an exciting and rapidly evolving field with enormous potential for transforming urban design. I think AI has the potential to create more efficient, sustainable, and livable cities. However, it's essential to approach AI in urban design cautiously and be mindful of this technology's ethical, technical, and social challenges. By doing so, we can harness AI's power to create more equitable, sustainable, and resilient cities.
Reference:
[1]Juan Lu, Bin Li, He Li, Abdo Al-Barakani, 2021. Expansion of city scale, traffic modes, traffic congestion, and air pollution. Cities, 23 February, 108, p. 102974.  https://doi.org/10.1016/j.cities.2020.102974 
[2]Allen Victor. (2021, Aug 18). How AI Route Optimization Enhances Transport Networks, from Daffodil: https://insights.daffodilsw.com/blog/how-ai-route-optimization-enhances-transport-networks
[3]Thanyalak Srisamranrungruang , Kyosuke Hiyama , 2022. Application of artificial neural network for natural ventilation schemes to control operable windows. Heliyon Nov, 8(11)  https://doi.org/10.1016/j.heliyon.2022.e11817
[4]Raja Chatila,Nicolas Miailhe. (2021, Nov). Recommendations for Government Action. CLIMATE CHANGE AND AI, p. 3-94. From https://www.gpai.ai/projects/climate-change-and-ai.pdf
[5]Yury Vetrov. (2017, Jan 03). Algorithm-Driven Design: How Artificial Intelligence Is Changing Design, from Smashing magazine: https://www.smashingmagazine.com/2017/01/algorithm-driven-design-how-artificial-intelligence-changing-design/
[6](2022, Oct 28). 10 ways AI is transforming building design, from Biblus: https://biblus.accasoftware.com/en/10-ways-ai-is-transforming-building-design/
[7]Steve Chong. (2022, Mar 11). AI in Project Management: How to Identify Your Most Effective Project Managers, from Projector: https://www.projectorpsa.com/blog/artificial-intelligence-effective-project-managers/
[8]Urban, Adam & Hick, David & Noennig, Jörg & Kammer, Dietrich. (2021). With a Little Help From AI: Pros and Cons of AI in Urban Planning and Participation. International Journal of Urban Planning and Smart Cities. 2. 19-33. 10.4018/IJUPSC.2021070102.
[9]United Nations. (2021, Jan 04). Bias, Racism, and Lies: Confronting the Negative Consequences of AI, from United Nations: https://news.un.org/zh/story/2021/01/1075032
Figure Reference:
[1]Open AI
[2]Hao Zhen. (2021, Mar 09). Opinion | Architecture + artificial intelligence, where is the future?, from Zhihu: https://zhuanlan.zhihu.com/p/355736228
[3]Junyan Yang. (2021, April 09). Exploration of the level-by-level interactive design mode of artificial intelligence urban design at the block scale, from Daily news: https://daydaynews.cc/zh-hans/technology/1059571.html
[4]Movie "Blade Runner 2049"